2011 Lab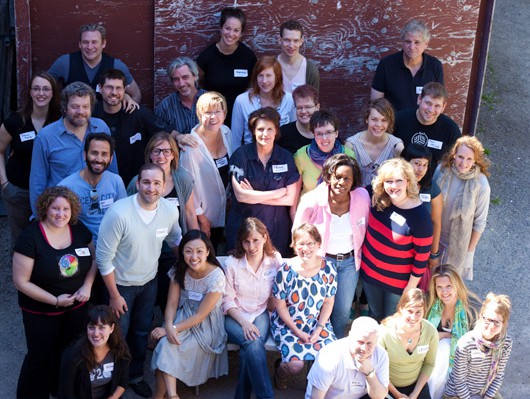 Directors Lab North's 2011 Lab was held in Toronto, Ontario from June 3 – 5, 2011.
Held at the Tarragon Theatre, the 2011 Lab welcomed 25 directors from all over Canada, the US and Ireland to come together for an amazing 3 days of shared ideas, passions and inspiration.
Lab Topics
Our first panel, on "Dramaturg, Playwright and Director Relationships," was Nina Lee-Aquino, Daniel Brooks, Anne Cattaneo, Judith Thompson & Andrea Romaldi.
We also had masterclasses with Linda Griffiths, Richard Rose, and Micheline Chevrier.
Our final panel on "Theatre & Aesthetics," was with Soheil Parsa and Michael Wheeler.
We also had our fellow lab members, Rod Ceballos, Jeannette Lambermont-Morey, SG Lee, Jack Grinhaus, Nick Crisafulli & Patrick Hughes share their own knowledge and techniques during their "Shared Sessions." Topics ranged from Arthur Miller to Viewpoints.
Lab Participants
Cole J. Alvis
Donna Marie Baratta
Rod Ceballos
Harmony Cohen
Nick Crisafulli
Jeff Culbert
Joanna Doak
Andrea Donaldson
Valmai Goggin
Jack Grinhaus
Michele Hawkins-Jones
Patrick Hughes
Jennifer Hunter
Melee Hutton
Ulla Laidlaw
Jeannette Lambermont-Morey
SG Lee
Buffie Main
Kenn McLeod
Leora Morris
Elise Newman
Kristina Nicoll
John Jack Paterson
Barbara Tomasic
Lee Wilson
DLN is grateful to its supporters
Special thanks to the Tarragon Theatre for their generous donation of their rehearsal spaces to house the inaugural year of the Lab.