2019 Lab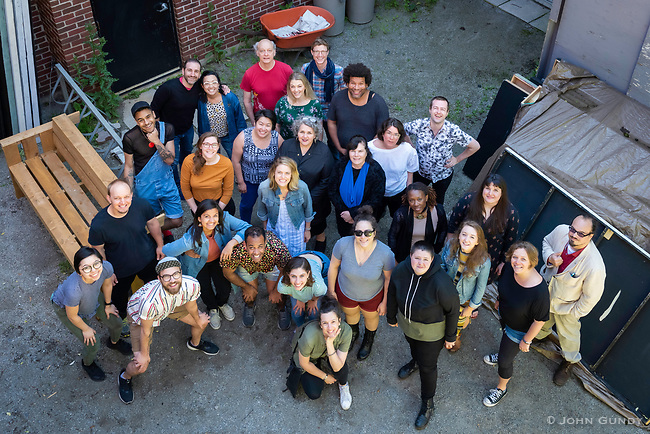 Directors Lab North's 2019 Lab was held from June 10 – 16, 2019 in Toronto, Canada.
Lab Topics
Dramaturgy
with Emma Tibaldo and Joanna Falk
Artistic Directing
with Richard Rose
Musical Theatre and the Pitch
with Stafford Arima
Diversity Talk
with Joseph Recinos
Indigenous Storyweaving
with Jill Carter
Physicalizing the Classics
with Allyson McMackon
Intimacy Direction
with Siobhan Richardson
Creator of Forget Me Not
with Ronnie Burkett
Creators of Full Light of Day
with Kim Collier and Daniel Brooks
Creator and Director of Obeah Opera
with Nicole Brooks and Lezlie Wade
Director of Kiinalik
with Erin Brubacher
Playwright's Project
with David Yee
Lab Participants
Amanda Goldberg
Jonathan Strayer
Ciarán Myers
Raluca Urea
Conrad Belau
Christine McBurney
Jay Northcott
Chelsea Dab Hilke
Alex Fallis
Sheena Robertson
Kaitlin Williams
Tony Tambasco
Ingrid Oslund
Catherine Blake Smith
Kayla Feldman
Anthony Kennedy
Julia Siedlanowska
Rouvan Silogix
Dayane Ntibarikure
Natasha MacLellan
Brandon Crone
Katia Café-Fébrissy
Shanti Ikwe Gonzales
Taylor Graham
Ryan Hinds
Genevieve Fleming
Susan A. Lock
Actors
Cynthia Jimenez–Hicks, Sochi Fried, Miquelon Rodriguez, Chanakya Mukherjee
Stage Manager
Daniel Bennett
Assistant Stage Manager
Assistant Stage Manager: Gloria Mok
DLN is grateful to its supporters
A tremendous thank you once again to the Toronto Arts Council and the Canada Council for the Arts for their generous support of the Lab. Also a huge thank you to Playwrights Canada Press for donating Canadian plays for our Labbies and of course, a heartfelt thank you to the Luminato Festival for their continuing generosity and support over the years with the Lab and our partnership with them.