Directors Lab North | Team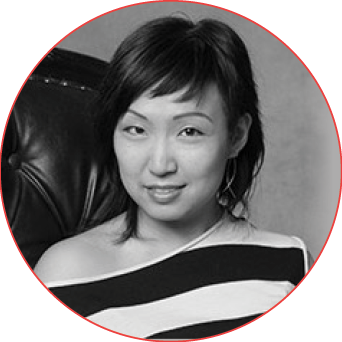 Esther Jun
Co-Founder/Artistic Director
Esther Jun is originally from Edmonton, Alberta. After pursuing acting in Vancouver, New York and Toronto, Esther decided she was better off making her own work and packed up to move to London, England in 2003, where she completed her BA (Hons) in Directing at Drama Centre London, part of Central St. Martins College.
​
Upon her second return to Toronto and after much letter writing, volunteering and generally introducing herself to anyone who would listen, Esther began working with a diverse range of companies across Ontario such as fu-Gen, Cahoots, Obsidian, Nightwood, Soulpepper, Buddies in Bad Times, The Shaw Festival and The Stratford Festival. She has helped facilitate programs for Crossing Gibraltar and the Paprika Festival and is a founding member and Co-Artistic Director of Directors Lab North (http://www.directorslabnorth.com/), the first international offshoot of the Lincoln Center Directors Lab, of which she was a 2010 member. She is also a founding member of The World Wide Lab, where in 2014 she co-created/ co-directed a workshop of Imperium, at Teatro Due in Rome, Italy. In 2015 Esther finally returned to her first love, the classics, and was a Neil Munro Intern Director at the Shaw Festival and in 2016 was the Assistant Director on John Gabriel Borkman at the Stratford Festival, as part of the Michael Langham Workshop for Classical Direction. New Play Development, however, kept pulling her back in and she was the Assistant Artistic Director at Tarragon Theatre from 2016-2018, where she directed the Canadian premiere of Evan Placey's Girls Like That and also premiered the published version of Theory by Norman Yeung. She returned to Stratford in 2020 to assist Antoni Cimolino on his Richard III, but the pandemic had other plans. The Festival during that time began to embark on a culture shift and Esther was asked to join the Festival's Anti-Racism Committee and become an Artistic Associate in Planning. She also took over the directorship of The Langham Directors Workshop. (https://www.stratfordfestival.ca/AboutUs/DirectorTraining).
​
Esther has been featured in NOW magazine's Top Ten Artists to Watch (Fringe 2013 & Summerworks 2018) and was nominated for 2012 Pauline McGibbon Award and the 2017 & 2011 John Hirsch Directing Award. Her production of The Last Wife at GCTC was nominated for 7 Prix Rideau Awards 2017, including Best Production and Best Director. She won the Capital Critics award for Best Director. Girls Like That won the My Entertainment World's Best Ensemble award in 2019. She also occasionally acts and originated the role of Janet in Ins Choi's play Kim's Convenience.
Most recently, Esther directed The Great Leap at Cleveland Playhouse and will direct Les Belles Soeurs at the Stratford Festival in 2023.